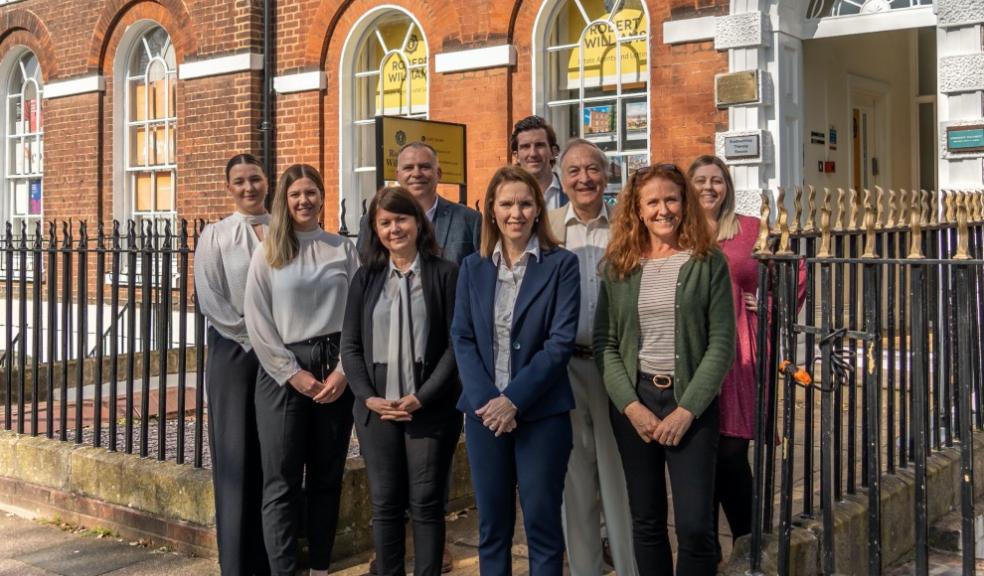 Robert Williams celebrates a quarter century... and launches Force Cancer Charity support
Robert Williams Estate Agents, the Experts in Property office on Southernhay West in Exeter, this month celebrates its 25th Anniversary. To mark the occasion, the busy estate agency is holding a party for clients, colleagues and industry contacts and is raising funds for Force, the local cancer support charity.
It all started back in 1998… Having worked for independent estate agencies both locally and in London for 15 years, Chartered Surveyor Robert took a dislike for corporate governance when Stratton Creber became part of the corporate agency Lloyds/TSB. It was then he decided to embark on his own business venture and Robert Williams Ltd was established, consisting of only Robert and a secretary.
With the support of a young Simon Havens and then Steve Alford, who spent more than 12 years with the agency and became a full partner in the business, Robert Williams Estate Agency continued to thrive and expand.
Meanwhile, in 2009 after achieving a First-Class Honours Degree at Manchester/Vancouver Universities, Robert's eldest son Oliver joined his father in the agency. After Oliver subsequently gained a Master's Degree in Exeter, Robert was confident in his son's ability to oversee the business, allowing him to take a back seat in day-to-day proceedings.
Oliver has now been at the helm for more than a decade and the team is stronger than ever with Associate Director Graham Coton managing the sales side of the business with Suzanne and Alice, and Sarah Coleman heading up the lettings team of Madeline, Kim, Katy and Zara.
The Robert Williams auction department is a recent addition, run by the highly-regarded industry treasure Richard Copus, and with his 40 years' experience and RICS (Royal Institute of Chartered Surveyors) membership, Robert retains a directorship, carrying out professional valuations for The Diocese and other clients.
To celebrate the 25-year milestone, the agency is holding a champagne reception for clients, colleagues and industry contacts at its offices on Friday 2nd June; a brand-new version of the Robert Williams logo has been designed to mark the occasion; and the agency is pleased to launch a new pledge to donate for the rest of the year £150 for each completed property sale to Exeter-based cancer charity, Force, which works locally to support anyone affected by cancer.
Force Cancer Charity offers counselling, complementary therapies, benefits advice, specialist physiotherapy and other health and wellbeing support to cancer patients and their families, as well as funding local research, providing equipment to improve patient care and supporting specialist nurses who deliver chemotherapy in outreach locations.
Robert Williams said: "25 years since I started the business, we continue to be a family run outfit that strives to give our clients the best possible service based on honesty, integrity, and professionalism. I truly believe that we now have our best ever team and I am confident that Oliver will continue to operate the business with the same ethos long after I retire."
Robert Williams Estate Agents specialises in selling and letting property across Devon. During its quarter century, the agency has accumulated an excellent track record through its dedication and commitment to its buyers, sellers, landlords and tenants, combining traditional values with cutting-edge technology and marketing presentation to provide best-in-class estate and lettings agency services.
Robert Williams is a member of the Experts in Property network of more than 60 independent estate agency offices, all working together to sell more property for clients.
For further information, to book a valuation appointment or to chat with the experts about any property-related matter, pop into Robert Williams on Southernhay West in Exeter, call 01392 204800 or visit www.robertwilliams.co.uk. To browse property for sale throughout the Southwest, visit www.robertwilliams.co.uk or www.theexpertsinproperty.co.uk.