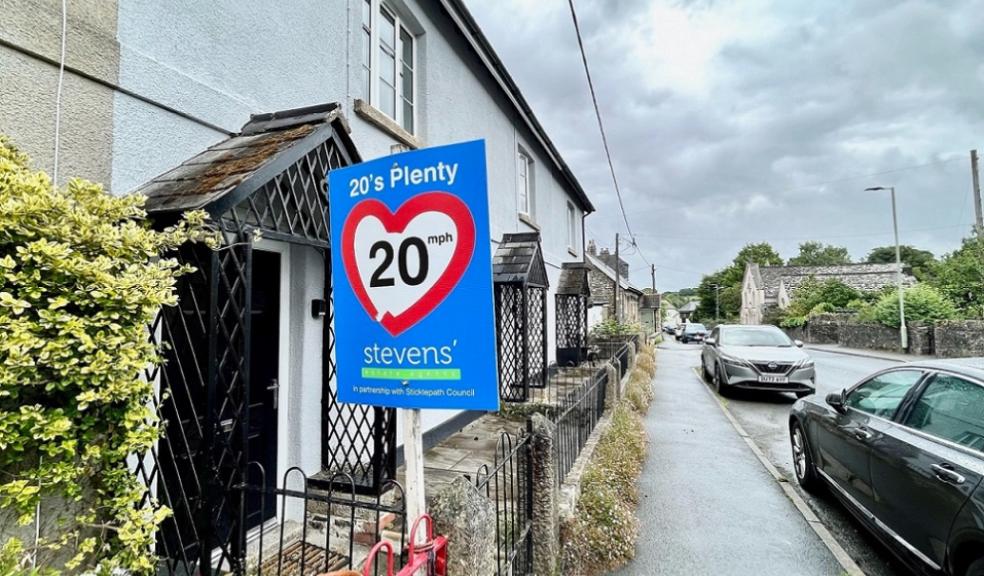 Stevens' partners with Parish Council in '20's Plenty' campaign
Stevens Estate Agents, the Experts in Property in Okehampton, has partnered with Sticklepath Parish Council in promotion of its '20's Plenty' campaign for road safety.
Amidst beautiful countryside just three miles from Okehampton, the village of Sticklepath sits on the northern edge of Dartmoor National Park and attracts walkers, cyclists and other visitors. With its primary school, village shop, village hall, children's play area, recreation ground, pub and church, the small community is embracing the '20's Plenty' movement to reduce the speed of traffic on residential roads.
Sticklepath Parish Council wanted an eye-catching and memorable way to promote the campaign to road users. Similar campaigns in other areas successfully utilise estate agency boards and so it made perfect sense for the Parish Council to approach Stevens' as a known and trusted brand in the area, to help get the message across to everyone who drives through and within the village.
James Stevens, director of Stevens' Estate Agents, said: "We're really pleased to have been asked to help promote the speed reduction scheme in Sticklepath. The speed limit on the road through the village is actually 30mph, but it isn't always adhered to. This limited timescale campaign is designed to grab drivers' attention to get them to think about their speed. We've had a new board designed and made especially for the project – they're different to our normal house-shaped boards but use the same colours incorporating the '20's plenty' logo."
Derek Moore, Vice Chair of Sticklepath Parish Council, added: "We have already seen some change in driving behaviour through the village because of the signs, which are distinctive and different. We are grateful to Stevens' for their support and for the impact they can have with this local safety campaign."
According to the '20's Plenty for Us' organisation, which was founded in 2007, 28 million people in the UK (more than 1 in 3 of the population) now live in Local Authorities which accept 20mph as the right speed limit where people live, work or play. Wales has already legislated for 20mph to become the national speed limit, to be effective 17th Sept 2023, and Scotland has a committed to making 20mph the norm across all councils by 2025.
Driving at 20mph doesn't just make the roads safer for pedestrians, cyclists and drivers, it is known to lower emissions and halve traffic noise.
Look out for the Stevens' '20's Plenty' boards around the village. Stevens' has been serving the property market in Okehampton and the surrounding areas since 1977. For a market appraisal or advice on any property-related matter, pop into Stevens' in Charter Place in Okehampton, call 01837 53300 or visit www.stevensestateagents.com.