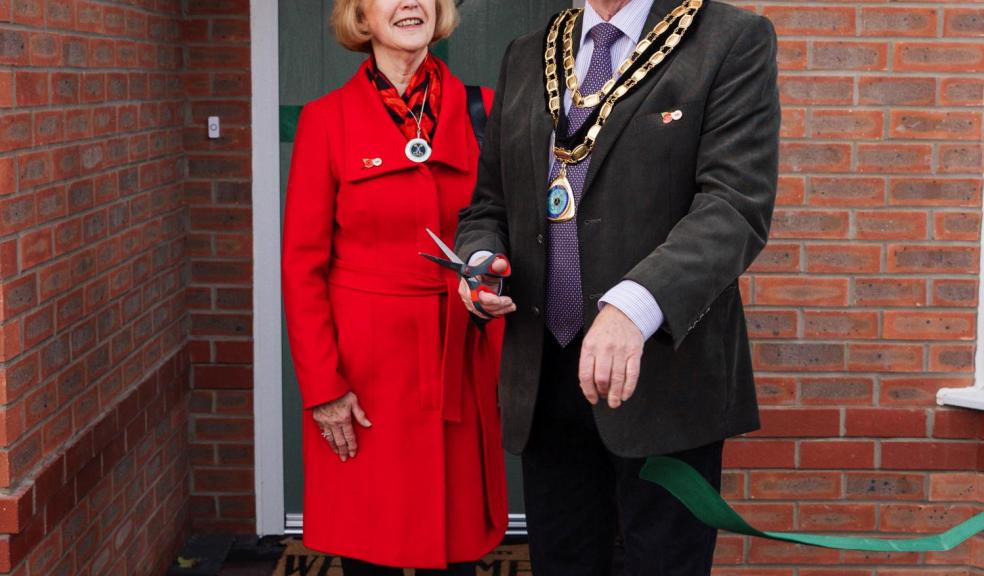 Mayor Marks Milestone For New Homes in St Asaph
THE Mayor of St Asaph has officially opened new show homes at a housing development in the city.
Cllr Colin Hardie cut the ribbon before being given an exclusive tour of Maes yr Haul by Castle Green Homes chief executive Gwyn Jones.
The homebuilder has detailed planning for 113 homes across a 12 acre site, on Upper Denbigh Road. Subject to planning, the company will build a further 28 homes on a neighbouring parcel of land, which was formerly an ambulance centre.
Mayor of St Asaph Cllr Colin Hardie said: "I was delighted to have been asked to open the show homes. The properties are obviously prestigious in their design and the entire development has been designed and built sympathetically to their natural surroundings, taking into account the local flora and fauna and so improving the biodiversity of the area. The City Council welcomes all new residents and hope that they all come to acknowledge that St Asaph is a safe and friendly community."
Under the approved plans there are 102 private sale properties at Maes yr Haul, including mews, semi-detached and detached designs, in a choice of two to four-bedroom designs.
The development will bring almost £250,000 worth of community investment to the area, plus as a good neighbour Castle Green is gifting land to St Kentigern's Hospice and providing financial support to the charity.
Gwyn said: "It was a pleasure to welcome the Mayor of St Asaph Cllr Colin Hardie to Maes yr Haul to see the progress we've made in providing much needed new homes. We followed the requirements of Denbighshire County Council's Local Housing Market Assessment Policy when planning the scheme. This has resulted in a broad mix of properties to cater for a range of housing needs.
"The show homes have been well received. We've welcomed dozens of people, including those who've made repeat visits with friends and family. In the first weekend they were open we secured three sales, which demonstrates the importance of being able to physically view a property. We also have a wealth of digital assets which provide a truly immersive experience for homebuyers."
Professionally styled and fully furnished, the show homes are examples of the three-bedroom Stratford and Cheltenham house types and four-bedroom Alderton and Wiltshire styles.  A three-bedroom Henley houses the sales centre.
Castle Green is building a good choice of two, three and four-bedroom homes to cater for local housing need. Current prices start from £189,995 for a two-bedroom Oakley style property.
Homes priced under £300,000 are eligible to be purchased using Help to Buy – Wales. The Government backed scheme offers the chance to secure a new home with a 5% deposit and 75% mortgage, with the remaining 20% covered by an equity loan, which is interest free for five years.
Linked to the development Castle Green will make a contribution of £128,000 to a local school; pay almost £42,000 towards improvements to existing affordable housing and fund almost £75,000 of improvements to existing public open space.
The show homes at Maes yr Haul open daily from 10am to 5pm. For more information see https://www.castlegreenhomes.uk/our-developments/north-wales/maes-yr-haul