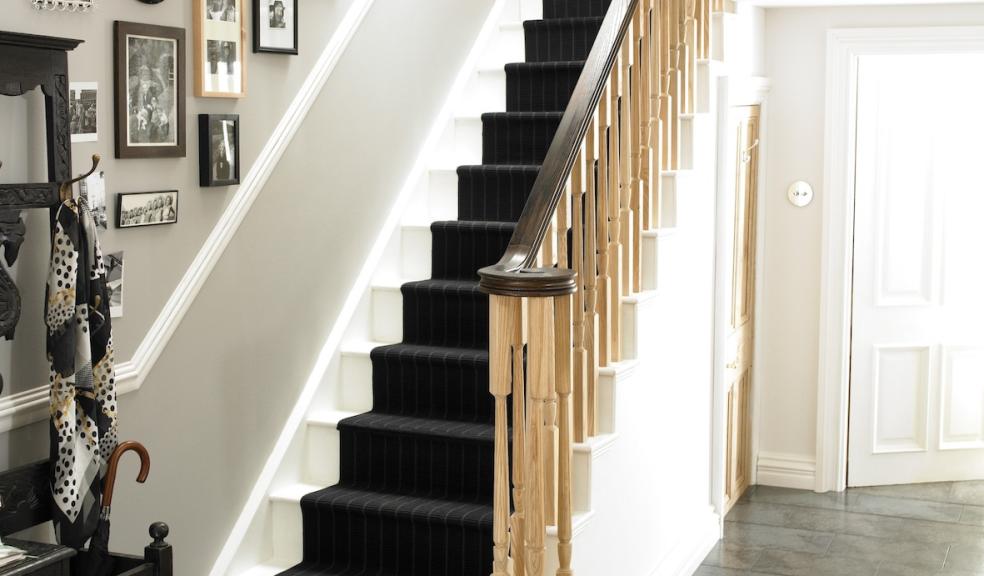 7 ways to give your staircase a contemporary matt black makeover
Using black colourways in your home doesn't have to be scary - even if we are currently in a spooky season! These expert approved decorating tips will help you fall in love with the matt black homes trend, convincing you to add black details to your staircase and hallways immediately. 
Hallways are an often neglected room in the home: with kitchen, bathroom and bedroom projects prioritised by home improvers. Yet, hallways and staircases can have a huge impact on the feel of a home, especially when making an impression on guests. Black kitchens and bathroom accessories have become increasingly popular following predictions in January. That's perhaps why influencers like Molly Mae and Victoria from In The Frow have incorporated the matt black trend into theirs, sharing contemporary staircase designs online. We even spotted a peak of black handrails in Rochelle Humes basement, complementing her black door frames and modern feeling space. In fact, "black staircase" is currently being Googled on average 2,500 times a month in the UK.
Lucie Levesley, director at Jackson Woodturners commented,
"Matt black interior details are a clever way to create a contemporary hallway space. Whilst installing a brand new black staircase isn't always feasible, there are some simple upgrades which can be made to get the look without blowing your budget. There's more than one way to get the look in your home, from adding new caps or dark glass paneling, to black handrails, spindles and flooring details. " 
Lucie Levesley and Poppy Pillitteri, interior designer and founder of Into Design, have shared their top tips to incorporate the matt black trend in your hallway.
7 ways to incorporate the matt black trend into your hallway
Replace handrails, caps and brackets
Handrails, caps and brackets can be a cost effective way to change out parts of your existing staircase, replacing them with new black accessories. Black caps on the ends of newel posts or finishing off handrails give a sleek finish. Whilst installing a long black handrail the length of the staircase creates interest, drawing the eyes up the stairs.  
Lucie commented, "With the current cost of living at a high, we're increasingly seeing customers look to make home upgrades through small changes rather than big building projects. Replacing caps and rails is one of the best value ways to change the feel of your hallways, with items costing less than £10 in many cases."
Spray spindles or make it metal
Spindle design is one of the most effective ways to create an ornate and impactful staircase" suggests interior designer Poppy Pillitteri. Wooden spindles can be painted or sprayed black giving your existing staircase a 21st century facelift. Any additional black finishes you use through accessories will then sit nicely beside them.
It's not just wooden spindles that can be used for this trend. Lucie recommends using metal such as iron spindles which give "an expensive looking black finish". Alternatives such as brass fittings like those inspired by Molly Mae's instagram feed can be used, her spindles, lighting and window details all follow the matt black trend. Metal spindles come in a range of interesting shapes too, with Jackson Woodturners' black metal range of straight, wave and  square knuckle designs being amongst the most popular on the website. 
Photography and frames
Another way to add black to a stairway is to add photos and artwork on the walls, leading up to the next floor. Using black frames will keep the theme running from one floor to the next. For a contemporary finish use the same style frame throughout. Alternatively, for a more eclectic feel use different shaped frames but keep them all black.  You could even try using black and white photography or prints, again tying the theme together nicely.
Retailers like Home Sense are a great place to find a mix of frame shapes, sizes and materials. Poppy recommends looking for frames that have glass rather than plastic. Alternatively, you could get special artwork or photographs framed professionally, using local framers (like Poppy's local Totally Biblical Gallery at Redbrick Mill in Batley). 
When it comes to arranging your frames, lay them out on the floor beforehand, that way you can plan how you would like them to sit. I'd also suggest using Command picture hanging strips as you don't have to start pulling holes in your walls! 
Swap spindles for panels
Stair parts expert Lucie is a big fan of glass panels, commenting that glass staircase features are growing in popularity at Jackson Woodturners. Adding dark grey glass panels instead of traditional spindles can create additional points of interest to your hallway. This is especially true  if you have interesting carpets, rods and details which can be made more visible this way.
Furniture and plant pots
If you have space for furniture at the bottom of your stairs, think about either purchasing a black piece or using dark accessories to dress it. 
"Consoles are a great piece of furniture to use here, coming in a variety of shapes and sizes to fit your hallway. Popping a mirror above the table allows you to have one last check of yourself before you head out for the day too." said Poppy.
Plants are all the rage! Bring some greenery to the show so that your black touches sing louder. Poppy adds that placing one of your existing plant pots onto a black metal or wooden stand is a low cost way to continue the trend.
Match flooring to features
Match flooring to features! Well known influencers like In the Frow share regular home updates, with her stunning hallway posts pairing black handrails, painted steps and carpet rods with luxurious, black checkered flooring.
The attention to detail in hallways such as In the Frow's (or this design below by Poppy Pillitteri) is what truly brings the matt black trend to life. Creating unique, contemporary spaces that will wow your guests.
Black stair rods and runners
Be adventurous by adding a carpet runner down the length of your stairs, one with black detail in the pattern will look chic. Poppy added, "I'd suggest using black stair rods to match your black spindles. You could also add a black edge to the carpet like to frame the walkway. This would be a really striking addition to your staircase which would make a big statement." Staircase expert Lucie agrees, adding that using black stair rods on the lower stairs only can further elevate the look, creating a real feature in the room.  
Visit Jackson Woodturners to find more products, tips and advice on staircase design, decor and installation.